A façade is generally one side of the exterior face or wall of a building, especially the front, but also sometime the sides and rear. In architecture the facade of a building is often the most important from a design stand point, as it rests the tone for the rest of the building. HYNADECOR Aluminium Composite Panels offer stylish, high quality and eye-catching solution that complement any exterior or interior space. Product excellence is not the end of the story with international quality and interest; we ensure that our products are not only well designed but also successfully installed offering high performance standards.
HYNADECOR ACP made out of two skins of Aluminium that are pre-coated and thermally bonded to each side of non-toxic polyethylene (LDPE) core. The exposed side of aluminium skin is coated with polyvinylidene diflouride (PVDF) paint suitable for exterior decoration purpose. The Rear side of ACP is provided with the services coat as to save it from any of the alkali attack from cement or galvanic corrosion from other metal. Keeping in mind the technological up-gradations and with an ever growing and aesthetic need of architects for beautiful elevations, we have been delivering the dreams of architects come true.
HYNADECOR Aluminium Composite Panels have to fulfil the structural requirement specifications as well as providing alternatives to designers for creating their masterpiece. HYNADECOR Aluminium Composite Panel has been designed manufactured to meet the robust requirement of cladding material for high rise buildings. It has superior flatness, uniform colour, excellent mechanical properties as well as absolute conformity to Kynar500® PVDF coating with 10 years warranty.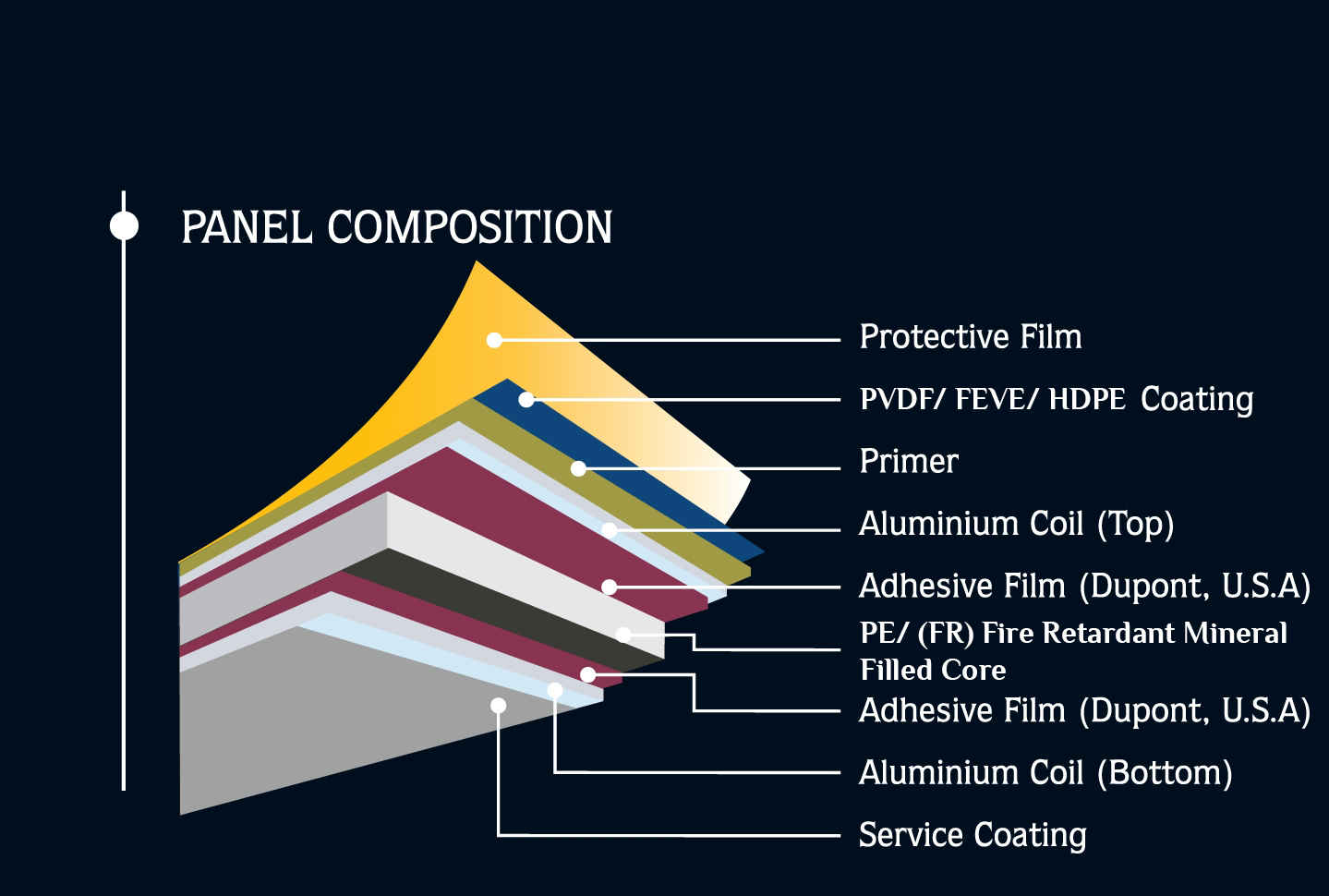 PANEL DIMENSIONS
Standard Size
1220mm X 2440mm
1220mm X 3050mm
1220mm X 3660mm
Al. Skin Thickness
0.25mm to .5mm
Thickness
2mm to 6mm
Coating
PVDF
Length
Upon Request
Width
1220mm
---
PRODUCT TOLERANCE
| | |
| --- | --- |
| Width | 0/±4.0mm |
| Length | 0/±6.0mm |
| Thickness | 4mm thick ±0.2mm |
| Bow | 0.5% of length & Width |
| Squareness | Max 5.0mm |
Kynar500® resin based finishes meet or exceed the performance requirement of ASCA 96 (Architectural Spray Coaters Association) and AAMA 2605 (American Architecture Manufacture Association) for high performance organic coating on architectural panels.
---
APPLICATIONS
Wall Panelling
Cladding
Facades
Signage
Cabinets
Doors
Partitions
Furniture
Automotive component parts
---
SALIENT FEATURES
100 % maintenance free.
Saves construction time and cost at the last stages of construction.
Cuts out the labour with its easy fitting & faster.
Provides sound insulation and resistant to weathering effects.
Resistant to breakage.
Design flexibility.
No affected by natural gases.
No affected by humidity & water.
Durable to impact.
Better salt water corrosion resistance.
No polishing is required.
Can be manufactured at any requested length.
Fire safety and no toxic gases.
Hi-tech appeal.
Long lasting.