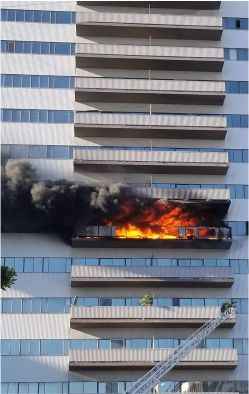 The debate for fire properties and characteristics was always a key issue in the industry and was revived even more, with recent fires in buildings cladded with ACP, as in the case of Al Nasr Towers in 2007 (cladded with Alutile) and commercial building in Bucharest in 2009(cladded with Exalco-Bond). Fire is always regarded the most important element for building facades, due to the fatal implications that it might infer for the inhabitants of the building.
The correct terminology for the material FR is fire- Retardant (since it delays fire) and not fire resistant (since no material used in composite panels has been discovered to have full tolerance to fire). The most widely recognized standards are E-84 in US and DIN 4102-B1 in Europe.
It is a false impression that fire retardant materials are measured in terms of minutes to be burnt. There are also other parameters that can be equal importance, such as the toxicity of the fumes, spread of flames and droplets that fell.
The fire regulations vary heavily between countries, and reflect national differences, civic codes, cultural sensitivities and historical events, and environment factors. In Germany(in Europe when someone talks of best practices, usually means German practice) the local test has been based on average time plus 15 minutes that fire department needs to arrive at a building in flames in rush hour, and evacuate a typical 5 floor building from the inhabitants.
It's definitely problematic to transfer building codes and regulations from one country to another, since there arise significant dissimilarities. European civic environments are characterized by low building (4-5 floors)densely built next to each other, so the fire regulations have been designed to prevent fire mainly from outside the building, and have subsequently given emphasis to the facades. Emirate civic environment, on the other hand, is characterized by high rise buildings, in relatively large distance from each other, and so we feel that more emphasis should be given to prevent fire mainly from inside the building. In this case, there should be given some importance to facades but we should also pay emphasis to barriers between the floors, as the fire can be transmitted easily from the space behind the cladding.
But also inferior product characteristics. In Far East, the aluminium skin
Thickness is seldom 0.5mm (as per the industry standard) and polyethylene is always recycled, sometimes from irrelevant products such as used car rubbers or supermarket bags.
HYNADECOR FIRE RETARDANT(FR) GRADE ACP
HYNADECOR FR is the non-combustible aluminium composite panel used in architecture. It consists of 3mm non-combustible inorganic mineral filled, polymer bonded halogen free core of LDPE sandwiched between 2 skins of 0.5mm thick Aluminium Coil (alloy designed 3000 H-14/16) making a consolidated panel finished with PVDF(Polyvinylidenflurid) coating containing minimum 70% Kynar 500® and 30% resin or Lumiflon® based coating on the topside. Lumiflon resins are thermo set resins (i.e. cured to form a coating that can't be melted) they have no melting effect and offer a range of gloss as high as 90% and meets or exceed values expressed in AAMA 2605. HYNADECOR FR meets the highest requirements of the fire regulations and is therefore the ideal material for all areas where fire protection plays an important role– be it for high-rise or industrial buildings, public buildings, hospitals, hotels, tunnels or underground stations. Furthermore, with its proven product and processing properties, HYNADECOR FR offers architects designers' unlimited opportunities for realizing their ideas. It is green material, as there is no harmful burning.
Fire behaviour:
HYNADECOR FR composite panels are not inflammable and so not actively contribute to combustion. During the life cycle of HYNADECOR FR composite panels, no environmentally hazardous substances are set free at any time and no toxic fumes are developed in the case of fire.
HYNADECOR FR has a non-combustible inorganic mineral filled, polymer bonded halogen free core and therefore generates no harmful gases in case of fire-also usable in areas with fire risk and difficult access for the fire bridge. It has excellent fire resistance compared to normal aluminium composite panel. It is a kind of environmentally friendly building material that offers excellent fire resistance and minimal gas generation when burnt. HYNADECOR FR with improved non-combustible mineral core is now under:
HYNADECOR has two kinds of fire retardant aluminum composite panel, B1 class and A2 class. For B1 class fire retardant aluminum composite panel, it contains: 50% - 55% flame retardant, the main ingredients are aluminum oxide (AlO) and magnesium oxide (MgO); When B1 grade panels are put on fire, it can be catch on fire after 5 minutes, and when the fire leave the panels, the fire on the panels will extinguish after 10 seconds.
For A2 class fireproof aluminum composite panel, it Contains 88% - 90% of the flame retardant, the main ingredients are aluminium hydroxide Al(OH)3 and magnesium hydroxide Mg(OH)2; it can be catch on fire after 20 minutes, and the fire will extinguish at once when the fire leave the panels.
Test Report on Physical Characteristics of State that Center of Building Materials Fireproof Panel:
Items
Standard Index
Test Value
Individual Judgment
Density of surface
Rating±0.5kg/m2
6.8kg/m2
Qualified
Impact strength
50kg.cmWithout paint off and crack
Without paint off and crack
Qualified
Bend strength
≥ 1OOMPa
≥ 1O4MPa
Qualified
Flexuous modulus of elasticity
≥2.00 x lO4MPa
3.00 x lO4MPa
Qualified
Through resistance
≥9.0KN
9.50KN
Qualified
Cutting strength
≥ 28.OMPa
29.OMPa
Qualified
1800peel strength
≥7.0N/mm
≥9.1N/mm
Qualified
Resistance to change of temperature
-400C~-800C20cycles without change
Unchanged
Qualified
Boiling water resistance
Unchanged
Unchanged
Qualified
Coefficient of heat expansion
≥4.00 X lO-5 0C-1
2.93 X lO-5 0C-1
Qualified
Heat deformation temperature
≥1050C
1120C
Qualified
The test result meets the index requirements of quality product of GB/T17748-1999
Test Report of Safety of State Quality Supervision & Inspection Center of Fireproof Building Materials Fireproof Panel.
Items
Test method
Technical index
Result
Conclusion
Minimum value of remaining length after burning
GB/T8325-88
> 0
410
Qualified
Average value of remaining length after burning
GB/T8325-88
≥ 150
486
Qualified
Temperature of smoke
GB/T8325-88
≤ 200
116
Qualified
Height of the top of the flame, mm
GB/T8326-88
150
15
Qualified
Grade of smoke density
GB/T8327-88
≤ 75
34
Qualified
Note: The technical index based on the regulation of uninflammable materials (Grade B1) of GB8624-1997.
TEST ITEM
TEST CONDITION
RESULT
CONCLUSION
TEST STANDARD
Fire safety test
temperature of 73± 5 F
relative humidity of 50± 5%
Flame spread index: 10 Smoke developed value: 15
Class A
ASTM E-84-04
The class limits for flame spread detailed in ASTM E-84
Classification
Flame spread at 1.5 min (mm)
Final flame spread(mm)
Class 1/A
Class 2/B
165(+25)
215(+25)
165(+25)
455(+45)
Time for flame spread to reach
(s)
mm
Flame spread at 1.5min
(mm)
Maximum flame spread
(mm)
Time to reach maximum
flame spread
(s)
165
215
265
455
710
60
60
60
60
60
60
60
60
60
60
60
60
60
60
60
60
60
60
Conclusion: The sample met the performance requirements of Class 1/Class A.
Testing for ASTM E-84.
Fire Propagation Test
Results:
Sub-index
i1
Sub-index
i2
Sub-index
i3
Total fire propagation
index I
The sample met the requirements of Class A.
Item 3: Fire Safety test for Surface Burning Characteristics in accordance with the procedures outlined in ASTM E 84-04.
The test results, calculated in accordance with ASTM E-84-04 for Flame Spread and Smoke Developed Values are as follows:
Test Specimen: Fireproof Aluminium Composite Panel
Flame Spread index*:10
Smoke Developed Value*: 15
Observations:
Ignition was noted at 300 seconds followed by charring, peeling and warping of the sample. At the conclusion of the test after burn was noted.
Test Results:
FIRE PROPAGATION TEST- ASTM E-84
Time mins t
Specimen Temperature ◦C Ts
Calibration Temperature ◦C Tc
Ts- Tc/10t
Sub Index of Performance
0.50
1.00
1.50
2.00
2.50
3.00
10
16
19
24
28
31
14
20
26
31
35
39
0.00
0.00
0.00
0.00
0.00
0.00







0.000
Total Index of Performance S    =  0.000
Sub Index s1 - 0.00
Sun Index s2 - 0.00
Sub Index s3 - 0.00
Index of performance S - 0.00
TABLE 2 FIRE PERFORMANCE PROPERTIES
Properties 
      4mm
6mm
Surface burning characteristics, ASTM E-84
Smoke developed index
0
10
Flame spread index
0
0
Vertical transmission, ASTM E-108 (modified)
Passed
Passed
Ignition temperature, ASTM D-1929
Flash Ignition
716oF(380oC)
Self-Ignition
752oF(400oC)
Rate of burning, ASTM D-635
CCI
Specifications of core:
| | |
| --- | --- |
| Core | Halogen Free |
| Composition of core | Inorganic compound: Minimum 90% Organic compound: Not more than 10% |
Properties of PVDF Coating:
SNO
DRY FILM PROPERTIES
RESULT
TEST STANDARD
1
Finish coat thickness
27(±3µm)
ASTM D-7091
2
Formability(T-Bend)
No peel off-2T, No Cracking
ASTM D-4145
3
Reverse Impact
≥16* Paint No Peel Off
ASTM D-2794
4
Cross hatch adhesion Test
≥ 3B
ASTM D-3359
5
Boiling water adhesion test
Passes
ASTM D-3359-B
6
Chemical resistance: 10% HCL
Passes
ASTM-2605
Chemical resistance:70% HNO3
Passes
AAMA-2605
Chemical Resistance:3% Detergent solution
Passes
AAMA-2605
Chemical resistance: Mortar
Passes
AAMA-2605
7
Colour retention(∆E)
≤ 5.0
ASTM D-2244/AAMA-2605
8
Gloss retention
≤ 70%
ASTM D-523/AAMA 2605
9
Chalk resistance
No Chalking
ASTM D-4214/AAMA-2605
10
Salt Spray(4000 hrs)
No Damage
AAMA 2605
11
Humidity Resistance(4000 hrs)
No Damage
AAMA 2605
Mechanical Properties:
SNo
PROPERTIES
RESULTS
TEST STANDARD
1
Thermal Conductance
5.79Btu/hr.ft 2.0F(32.9W/m2.0K)
ASTM C518
2
Tensile strength
≥40MPa
ASTM E8
3
Yield strength
≥3OMPa
ASTM E8
4
Elongation
8805;3%
ASTM E8
5
Deflection temperature under load
211°

C

ASTM D648
6
Liner thermal expansion
2.4mm/m at 100°C temp. difference
EN 1999 1-1
7
Acoustic properties: Sound absorption factor as
0.05db
ISO 354
Sound transmission loss Rw
27db min.
ISO 717-1
8
Thermal Properties:
Thermal resistance R
0.002m2K/W
DIN 52612
9
Panel dimension tolerances
Thickness:±0.20mm
Width:+4.0mm
Length:+6.0mm
10
Weight of panel
Maximum 6KG/m²
11
Resistance to spread of flame
Class-B Min
Appendix-4 UIC-564-2 OR
12
Deterioration of visibility of smoke 
Class-A
Appendix-15  UIC-564-2 OR
13
Limiting oxygen index
32 Min
IS:13501
14
Toxicity
Less than 1
NCD-1409
15
Heat release rate(MARHE i.e. maximum average rate of heat emission in KW/m²) as specified in EN 45545-2:2013
R1(HL3)
50KW/m²
ISO 5660-1